Categories
Indigo Sky
Unlock the secret of Cool Charms® new Body Spray Indigo Sky and dance until the last twilight and reveal the hidden mysteries of the universe with Indigo Sky.
Diamond Bliss
Drift into the heavens and play among the stars with this perfectly polished precious new gem, Diamond Bliss. Cool Charm's precious new gem Diamond Bliss has been pertly polished to give you a bright, brilliant, fresh floral fragrance. To unleash your inner superstar, spray Diamond Bliss all over and you'll sparkle and shine.
Lunar Eclipse
Experience the enchantment and mystery of Cool Charm® Lunar Eclipse. A delicious fragrance of exotic tiare flower, muguet, ylang and rich vanilla. Spray it all over your body to enrich the senses. Thrill to the lure of the eclipse.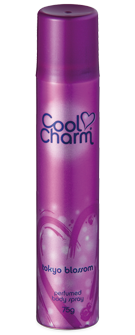 Tokyo Blossom
Fall in love with Cool Charm® Tokyo Blossom. Sweet, fun, fresh and spicy. Spray it all over your body to feel alive and taste the essence of spring - light, fresh, fruity florals, oriental blossoms and the magic of inspired new love.
Island Mist
Feel relaxed and care free with Island Mist. Spray it all over your body to enjoy the tropical scent of tangerine, kiwi fruit, melon and the sensual caress of island blossom and warm vanilla. Escape and experience the exotics magic.